| | |
| --- | --- |
| | |

| | |
| --- | --- |
| A.G.SPALDING & BROS | |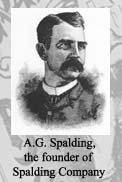 Eastern Accent International has been the single source of distribution for Spalding pens for more than a decade.
The collection ranges from roller pens, fountain pens to mini-pens and mechanical pens. (Our mini collection works well with pocket organizers).
All ofハ our writing instruments are highly durable and reliable. Refills are readily available at office supply stores. We also offer refills for each pen in the collection.The balance and integrity of line these pens offer attest to an uncompromising dedication to quality.

About Albert Goodwill Spalding

In 1871, Mr. A.G. Spalding entered Boston Red Stockings when he was 22 years old.Five years later, he created the first official baseball for the major leagues in the United States. Since then, Spalding's baseball has been the official baseball of the National and American Leagues.
Today, it is no exaggeration to say that wherever people play baseball, you will find Spalding equipment.The official baseball created 100 years ago, is also found on gloves, bats, spiked shoes, uniforms and other sporting and leather goods including Executive and corporate gifts.


>> A.G.Spalding online shop


Copyright © Eastern Accent International. All Rights Reserved.